Kids Connection is a family based play centre like no other in Dubai. Children can stroll, crawl, toddle, walk, skate and ride at a park which brings the outside inside! There's plenty of room for children to run around, 'lay on the grass', play on swings, slides, see-saws, springs, trampolines – no matter what the weather outside. There's even a bouncy castle, a traversing wall, climbing tower and a softball court.
Children can experience the most exciting party destination around, where every aspect of your special event is designed to meet your needs for that special celebration. There's a private birthday party room, redemption games, child-friendly rides, club and school event bookings, summer camp and no trip to the park would be complete without ice cream. Little ones can find the classic Baskin Robbins within Kids Connection and pick a flavour of their choice.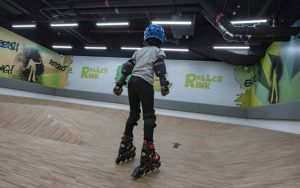 An exciting new addition has arrived at Kids Connection! Kids aged 4-12 can also look forward to getting their skates on with the brand new roller rink at Kids Connection. Little ones can expect hours of energetic fun, whilst beating the Dubai heat. The perfect activity for birthday parties or a fun day out!
Lastly, electronic games can be played with a card that is charged with any amount of your choice.